Marklock. Our brand-new APP for your tradeamark search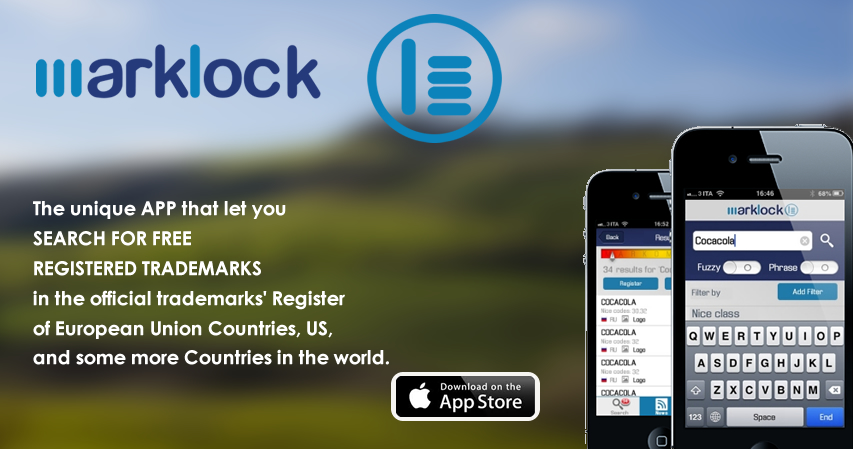 SEARCH

Simply digit the trademark you desire to search.

You can also limit the search to a single National Trademark Office.

 
CHECK SEARCH RESULTS

Browse the results and check if your trademark has been already registered!!

You can also search for similar trademarks.

 
UPGRADE TO MARKLOCK-PRO


I) More search facilities: Owner, Legal status, Nice Classes, application number.

II) Marklockmeter: our exclusive risk analysis automatic system.

III) Join a 25 EUR off for registering your trademark with our Attorneys.
CONTACT US AND REGISTER YOUR TRADEMARK


Feel free to obtain more information about the trademark registration system in Italy and EU.

Obtain legal advice for registering your trademark in Italy, European Union, and Worldwide.

MarkLockTM is an smartphone application software of the Italian company Eurtower Commodity and Advisors S.r.l., with registered office in Rome, Italy, Via Eschilo 190, int. 7.
Mark LockTM allows you to search identical/similar trademarks in the Official Trademarks' Office Register  for free.
MarklockTM investigation results are provided by the TMview database. TMview is a consultation tool for public data concerning trademarks. It does not constitute an official trade mark register.
MarklockTM is of a purely informative nature with no commercial ends.  According to the TMview disclaimer and related limits/license conditions, MarklockTM software and the access to TMview data is provided free of charge and with no commercial ends.
Before undertaking crucial decisions that may imply relevant legal and economic consequences, it is strongly recommended to ask for a comprehensive legal advice to an IP attorney.
The English version of MarklockTM is provided for information purposes only. The usage of MarklockTM shall be governed by Italian law and related "Condizioni e limitazioni di utilizzo del software MarklockTM".